Lauri J. Maldonis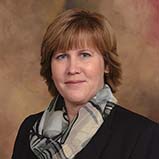 Ms. Maldonis has been engaged in the real estate appraisal profession since August 1992 as an associate appraiser, a Wisconsin Certified Residential Appraiser since September 1994, and a Wisconsin Certified General Appraiser since February 2000. She has been employed with L.A. Duesterbeck & Associates, Inc. for over 20 years. Ms. Maldonis' experience includes a range of assignments of residential and non-residential properties including industrial properties, various commercial facilities, all types of vacant land, farms, multi-family and single-family residences in Rock, Walworth, Dane and Jefferson Counties as well as other Wisconsin locations. Ms. Maldonis has had experience appraising residential subdivisions, both single-family and mixed use developments including condominium developments. Ms. Maldonis has also had experience in appraising special purpose properties such as gas station/convenience store facilities, assisted living centers, marinas, hotels/motels and schools/colleges.
Professional Affiliations/License
Wisconsin Certified General Appraiser #1044
Illinois Certified General Appraiser #553.001792
Education
Summa Cum Laude Graduate of the University of Wisconsin-Stout

Bachelor of Science Degree, Hotel/Restaurant Management, 1990

Successfully completed the following Appraisal Institute Courses:

Courses 110 and 120, Appraisal Principles and Appraisal Procedures, in August 1993
Standards of Professional Appraisal Practice, Part A in February 1994
Courses 310 and 320, Basic Income Capitalization and General Application Procedures and Techniques, in January-February 1995
Course 510, Advanced Income Capitalization, in December 1995
Course 520, Highest and Best Use Analysis, in March 2001
Course 710, Condemnation Appraising; Basic Principles and Applications, in July 2001
Course 530, Advanced Sales Comparison Approach and Cost Approach, September 2007
Course II540, Report Writing and Valuation Analysis, April 2010
Course 420, Business Practices and Ethics, in December 2010
Course 503GD, Advanced Concepts & Case Studies, September 2011
Ms. Maldonis also attended seminars on various topics including USPAP, subdivision analysis, multi-family accelerated processing, internet strategies for appraisers, apartment appraisal, industrial valuation, small hotel/motel valuation, leased fee analysis, special purpose properties, condemnation appraisal, appraising convenience stores, highest and best use analysis and attended various regional market symposiums.